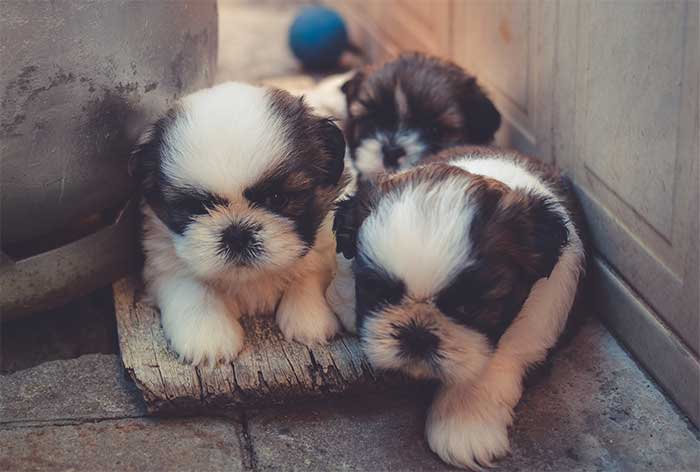 As Bark Busters dog trainers, we find that the New Year is a busy time for puppy training. If you are thinking of getting a puppy it is worth taking time to think about and prepare yourself for what you are taking on, and to make sure that the puppy you buy is right for you and your family. Having the right dog, properly trained, will bring you joy for years to come.
There are several factors to consider when choosing a puppy. Consider the breed you are thinking of and be sure that you can handle its size, temperament, and the amount of exercise it will need as it grows into an adult dog. Some of the registered breeds can be prone to known medical conditions so check these out before you go ahead. A cross-breed can be excellent but unless you know the size of the parents it is sometimes difficult to know how large the dog will become.
How to identify the right breeder
Talk to and visit breeders. Always buy your puppy from a reputable breeder that specialises in only one or two breeds. A reputable breeder should check your situation before allowing you to take one of the litter. They will need to know whether you have a secure garden, what time you have available for training, how much time will the dog spend home alone etc.
Make sure you can visit their premises and see the mother, and where possible the father, with the puppies. If you go to a domestic property to view a puppy, make sure that the puppies and their mother live together, and that the house has signs of dogs living there. There have been some terrible stories recently about puppy dealers, so make sure you are 100% confident that the person you are buying from is an ethical and licensed breeder or a reputable rescue centre.
As well as seeing the mother of the puppies it's advisable to see the father too. The temperament of both mother and father must be sound and of a good nature. Your puppy will inherit some of their temperament traits.
Never take a puppy under 8 weeks old if offered, as puppies need to stay with their mother and siblings for those first crucial weeks whilst they learn to interact and communicate with other dogs. This will help to avoid behaviour problems in the future. Whilst you are viewing the puppies, always try to see the whole litter at play, and be mindful that the puppy sitting on its own away from the rest of the litter may have some temperament issues that may be difficult for a first-time puppy owner to address. Similarly, the puppy that is confident and comes bounding over to you may be challenging as he likes to make his own decisions! Try to choose a puppy that best reflects your personality.
Choosing the puppy to suit your personality
The best puppy to choose would be the one who is playing with his siblings but not being too rough. If you pick him up and he is happy to be cuddled without mouthing too much or wriggling to get away, then that could be the puppy for you. If you feel that you would like two puppies to be company for each other, choose a male and a female, as that mix of a male and a female is far more compatible, than two of the same sex. If you really want two of the same sex, then, providing you are going to have them de-sexed, two males are preferable to two females, as in our experience, females are the more prevalent types we deal with when called in to address problems such as Sibling Rivalry.
Bringing a new puppy home
When you bring your puppy home, be mindful that the puppy will be unsure and scared when taken away from its mother and siblings. Be prepared for crying and whimpering and be patient. He will need somewhere small, dark and cosy to sleep, and will preferably have a small toy or blanket brought with him to remind him of his litter-mates. Our crate training article may help.
Ensure that you register your puppy with your vet and start the course of injections as soon as possible. Also, be aware of the laws surrounding identification and speak to your vet about microchipping as it is now compulsorily in the UK.
A free WaggTagg™ dog identification tag is provided with each Bark Busters Home Dog Training package.
One of the main concerns we hear about puppies is toilet training. Puppies will have lots of accidents but they won't toilet in your house on purpose or to spite you! As with everything with puppies, this issue needs consistency and perseverance. Be prepared to go outside with your puppy in all weathers on a regular basis whilst you encourage him to toilet outside. A lot of hard work and consistency in the first few weeks will pay dividends in the long run.
Puppy training to suit your needs
If you need assistance in settling or training your puppy, Bark Busters has a training programme that will suit you and we will be happy to help you understand your puppy and why it does the things it does.
This information is brought to you by Bark Busters in the interest of good puppy management.
Bark Busters Home Dog Training has trained more than 1 Million dogs worldwide and are renowned authorities in addressing dog behaviour with all-natural, dog-friendly methods. Bark Busters training is the only service of its kind that offers International guaranteed lifetime support. With hundreds of trainers around the world, Bark Busters continues its mission to enhance the human/canine relationship and to reduce the possibility of maltreatment, abandonment and euthanasia. Contact your local Bark Busters dog trainer to see how they can help.