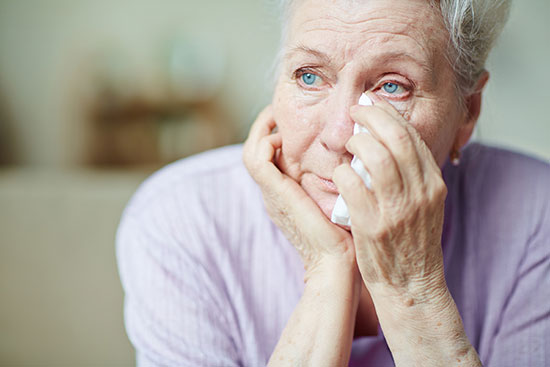 Dogs are with us for just a short period of our lives and yet, during that time, they become a major part of our family. Many people would describe the attachment they feel towards their dog as just as strong, if not stronger, than that felt towards some human relatives. So when it is time for our beloved pet to leave us and cross over the "Rainbow Bridge", the sense of grief and loss can be overwhelming. What is worse, many other people, those you work with or those you know socially who have never owned a dog and never experienced that particular bond of love and affection, simply cannot comprehend the depth of your grief.
As well as affecting you personally, it will also affect the whole family and your other pets if you have them. So whilst you are grieving, you also have the difficult task of dealing with the grief of the rest of the family, and the change in behaviour of your surviving pets as they try to cope with the loss of a member of their family group and the changes in your emotional state. This can leave you in a maelstrom of emotions, and make coping with the loss of your pet even more difficult as you struggle to maintain your day-to-day life amongst those whose sympathy is limited. For those who lived alone with their dog, the sense of loss is particularly heightened as their beloved dog has been their full-time companion and friend.
People who comment that "it's just a dog" are not going to be any help or support to you during this traumatic time. They are probably not wishing to be harsh, but they simply to do not understand the bond of family and friendship that a dog brings. So, although there will be those who will not comprehend the depth of your grief, this does not mean that should not allow yourself to mourn the loss of your dog. It is important not to feel ashamed or guilty about the grief that you are feeling. You need to go through this process in your own time so that you can eventually move on from it.
Coming to terms with the death of a dog is a process that can take some time. The duration and unfolding of this process will vary from person to person and can last from weeks or even years. The process will be as individual to you as was your relationship with your dog. Waves of emotions such as sadness, anger, guilt or even depression will bring emotional lows that will last for varying lengths of time. Accepting that these emotions are a normal part of the grieving process, and allowing them the freedom to come and go will mean that, eventually these emotional lows will become shorter and less painful as time goes by.
Accepting that your feelings of grief and sadness are normal responses, that should not be denied, is the first step in your healing process. Don't try to tell yourself how you should feel, and certainly don't allow other people to do so either. Where you can, reach out to other people who have shared similar experiences and are willing to share on social media, forums, or on-line support groups. These people will be helpful and supportive to you, won't judge you, and will share their own experiences too, allowing you to feel less alone. Also, by listening to their stories, you can draw some comfort from the knowledge that you are helping others along their journey of mourning.
During the process of mourning, it is also important that you try to maintain your physical health and well-being. Your emotional energy can drain your physical reserves so it is important to try to maintain your eating, exercising and personal hygiene habits. For those in employment, maintaining the regular routine of going to work can be beneficial. It is probably a good idea to let your employer know what has happened to you. They may not be able to offer much in the way of structured support, or time off, but alerting them will help to avoid potential criticism of your commitment and/or concentration levels. Also important is to try to maintain the regular routines of any surviving pets. Make sure their feeding routines are maintained, and also maintain or Increase the amount of exercise and interaction. This can help re-establish your relationship and break the overwhelming mood of sorrow that you all share.
Holding a funeral, or remembrance service is something that can allow time for the family to come together to grieve and share their personal feelings and experiences about your pet. You will probably experience many tears and overwhelming grief at such a ceremony, but there will also be laughter as people share their stories from the dog's life. Laughter and joy are ways of celebrating your dog's life and are as valuable as sorrow throughout the grieving process. You may also want to think about creating a memorial, whether that be in a pet cemetery, pictures around your home, a book of memories, or by planting a tree or erecting a bench in your dog's memory. All of these things are positive actions that allow you to invest your emotions into a physical activity, and may help you to process your grief.
Of course, the manner of your dog's passing can also contribute to the emotions you are feeling. When a dog is put to sleep by a vet, the decision is one that has been taken with the advice of the vet, and is in the best interests of your dog. In other words, you have been guided into an informed choice that reflects your love for your dog. Sometimes a dog's passing may be sudden and completely unexpected due to an accident or an attack. These latter situations can prove more challenging as you may blame yourself or start to think 'if only'. If only you hadn't left the gate open, if only you hadn't taken him to the park at that time. These types of thoughts will bring feelings of guilt and even self-loathing into the mix of emotions, and can be very difficult to deal with. If talking with people who understand and empathise with your emotions is not preventing you from slipping into despair and depression, then you should speak to your GP to help you seek professional help.
If you are thinking about getting another dog, don't do it too soon. The decision is personal and yours to take, but rushing into the next relationship with another dog may not be the best thing for either you or the dog. You may find that you constantly compare the new dog to the old one, and the new one will not come out on top. Allow yourself to mourn your old dog and, only when you feel emotionally ready, then allow yourself to love another. Also, consider your age; Are you fit enough for a large dog? What is your life expectancy? Be honest with yourself about what type of dog you will be able to handle.
During this difficult time, and if you don't have any surviving dogs, do allow yourself to appreciate the benefits of not having a dog. Try to have days out, holidays, evenings with friends where you are not tied to the needs of a pet. Constantly repeating all of the behaviours that you used to do when you had a pet will not help you move on.
The journey through grief can be a long and difficult one, and you may feel that you are making the journey alone. Allow yourself to be present on the journey, don't allow other people to try to direct you or try to speed you through it. Allow those who are willing, to support you as you move through the stages of your grief until, ultimately, you are able to move on.
Bark Busters trainers have trained more than 1 Million dogs worldwide and are renowned authorities in addressing dog behaviour with all-natural, dog-friendly methods. Bark Busters training is the only service of its kind that offers International guaranteed lifetime support. With hundreds of trainers around the world, Bark Busters continues its mission to enhance the human/canine relationship and to reduce the possibility of maltreatment, abandonment and euthanasia. Contact your local Bark Busters dog trainer to see how they can help.